Mandurah Life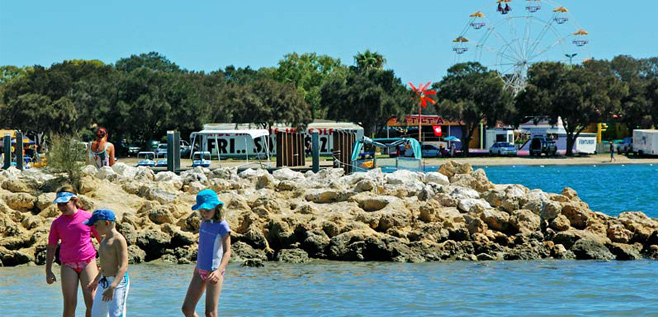 Mandurah - your natural choice for lifestyle, business and holiday experiences. Approximately 74kms south of Perth, Mandurah is blessed with a unique blend of coast, bushland, industry and inner-city living. A tourist's paradise, Mandurah is also the capital of the Peel region and considered the gateway to the South West. In the past 15 years, Mandurah has grown from a Shire with a population of 12,700 to a City of 69,540. This is predicted to rise to 85,000 by 2016. Yet, despite the enormous growth in population, the City has retained its relaxed, holiday atmosphere. The City of Mandurah boasts the finest waterways in Australia, with everything from fishing, crabbing, swimming, recreational cruising and waterskiing on offer for enthusiasts.

Creative planning - including a number of residential canal developments with boat access to the Peel Inlet - demonstrates just how Mandurah retains its uniqueness compared to other cities. The cosmopolitan, world-class marina is rapidly expanding and offers unequalled boating facilities. Enjoy a vibrant mix of waterfront restaurants, boutique shops and stylish apartment living.

A rich arts and festival culture has also become a unique feature of Mandurah, with many annual events, including the Channel Seven Crab Fest, Mandurah Ocean Marina Boat and Fishing Show, Stretch Arts and Community Festival and Mandurah International Opera Festival attracting tens of thousands of visitors. A variety of transportation options are available to explore Mandurah, with an improved local bus service offering low cost travel around the city centre. The new rail project has made travelling to or working in Perth a viable option giving commuters a chance to escape the hustle of the city for Mandurah's relaxing holiday lifestyle.
Your Guide to the Mandurah Train Line
For those seeking access between the foreshore area, Mandurah Plaza, Mandurah Centro and the Station, the 588, 589 and 590 Transperth buses operate 30 minute services from 5:30 am until late evening on weekdays and commencing services at 6:30 am on Saturdays and 7:30 am on Sundays. Timetable modules located at the Station will provide you with time and route details.

Journey time to Perth:
48 minutes
Services during Peak Time: Every 10 minutes (7am - 9pm and 4pm - 6pm)
Day-time offpeak frequency: Every 15 minutes

Facilities:
Bike parking
Bus transfer
Kiosk
Public toilets
Public telephone

Station Access - by bicycle
If you live within a 2km radius of the Mandurah Train Station, it will take you less than 8 minutes to ride your bike within the City of Mandurah
Bike lockers are provided adjacent to the bus drop off area at Mandurah Station. There is also short term bicycle U-rail parking located adjacent to the Station entrance. For details on taking bikes on trains, visit the Transperth website ww.transperth.wa.gov.au

Station Access - walking
If you live within a 1km radius of a the Mandurah Train Station as shown on the map, it will take you less than 15 minutes to walk to the station.Mandurah Station
Mandurah Station is located on the north-west corner of the intersection of Allnutt Street and Fremantle Road. The station has side platforms connected by a concourse at the end of the tracks. It is the terminal station for the train line and connected to the city centre by local feeder buses. The entrance buildings include the current bus station buildings located toward the Allnutt Street end of the site.

Station Access - by Bus
Catching a bus to your local train station is one cost-effective and convenient way to get there. Public transport within Perth is divided into 9 zones and your fare is determined by how many zones you cross within your journey. When you buy a Transperth ticket you don't just buy a single ride on a bus, train or ferry, you buy 2 to 3 hours of travel on any Transperth service. Catching a bus to your closest train station instead of driving will mean you won't have to try and find a car parking bay when you get there. Mandurah Foreshore Express Service - The City of Mandurah provides a shuttle bus service between the Station and Mandurah Foreshore. The service operates 7 days a week between 10am and 6pm (5pm during winter months) on a 20 minute frequency and primarily offers tourist's access to the foreshore retail and cultural centre of Mandurah

For further details on how to access the Mandurah Train Line Stations refer to the Transperth website at www.transperth.wa.gov.au
Local Numbers of Interest:
Mandurah Police: 9581 0222
Mandurah Fire & Rescue: 9582 0399
Mandurah Water Rescue Group: 9535 4789
Mandurah Council: 9550 3777
Peel Health Campus: 9531 8000
Senior Citizens Centre:
Billy Dower Youth Centre: 9550 3670
Mandurah Aquatic and Recreation Centre: 9550 3600
Halls Head Recreation Centre: 9550 3950
Mandurah Neighbourhood Watch: 9581 4182
Mandurah Courthouse: 9583 1100
Peel Advocacy & Support Service: 9586 8112
FESA Fire Services Peel District Office: 9535 3526
Pat Thomas Memorial Community House: 9535 4775
Mandurah Wildlife Rescue: 9586 3166
Mandurah Surf Life Saving Club: 9581 9178
Mandurah Community Health and Development Centre: 9586 4400
Local Government Schools:
Coodanup Community College - Wanjeep St - 9581 0900
Dudley Park Primary School - Gillark St - 9535 9533
Falcon Primary School - Baloo Cres - 9534 2411
Glencoe Primary School - Brigadoon - 9535 3445
Greenfields Primary School - Zambesi Dve - 9581 1976
Halls Head Community College - Casurina Dve - 9535 5195
Halls Head Primary School - Oleander Pl - 9582 9011
Mandurah High School - Gibla St - 9535 3800
Mandurah Primary School - Hackett St - 9535 1575
Mandurah Senior College - Education Drive - 9583 7373
North Mandurah Primary School - Park Road - 9535 5800
Ocean Road Primary School - Ocean Road - 9582 2311
Riverside Primary School - Minilya Pkwy - 9534 9011
South Halls Head Primary School - Karon Vista - 9583 5400

Local Private Schools:
Assumption Catholic Primary School - Gordon Road - 9581 7888
Dawesville Catholic Primary School - Nyabing Pass - 9583 2500
Foundation Christian College - Waldron Blvd - 9586 5444
Frederick Irwin Anglican School - Gordon Road - 9581 6777
Living Waters Lutheran College - Karon Vista - 9535 6309
Mandurah Baptist College - Catalina Dve - 9583 7000
Mandurah Catholic College - Coodanup Drive - 9531 9500

Local Medical Centres:
Connolly Medical Centre: 119 Anstruther Rd - 9581 4400
Dudley Park Medical Centre: 265 Pinjarra Rd - 9535 4644
Falcon Grove Medical Centre: Shop 11 Falcon Grove Shopping Centre - 9534 2380
Gemini Medical Services: 102 Oakleigh Drv - 9535 0999
Greenfields Family Practice: 191 Lakes Rd - 9581 8228
Imaging The South: 110 Lakes Rd - 9531 8331
Mandurah Doctors: 34b Boundary Rd - 9535 8700
Mandurah Eye Centre: Peel Health Campus - 9535 1300
Mandurah Medical Centre: 265 Pinjarra Rd - 9535 4644
Mandurah Paediatrics: 107 Anstruther Rd - 9534 8890
Mandurah Station Medical: Unit 6/ 5 Murdoch Drv - 9534 9766
Metceni Health: 45 Aldgate St - 9586 2122
Miami Medical Centre: Shop 8 Miami Village Shopng Cntr - 9534 2500
Modern Medical Clinics: 66- 68 Mahogany Drv - 9582 7800
Murdoch Cardiology (Mandurah) : Peel Health Campus - 9366 1921
Murray Medical Centre: 34-36 Minilya Pkwy - 9535 1166
SKG Radiology: 160 Pinjarra Rd - 9550 2300
Southern Corridor Ear Nose & Throat Services: 140 Pinjarra Rd - 9535 5755
Mandurah offers a diverse range of properties and lifestyles from vibrant family orientated areas to tranquil established communities. Whatever you're looking for Mandurah is sure to have a suburb that suits.
Mandurah Suburb Map - download
If the suburb you're interested in isn't listed please contact us mandurah@ljhooker.com.au and we'll be happy to provide a free copy for you.
Share